Любое древнегреческое произведение — это попытка призвать божественное в конкретную форму. Даже работая над скульптурой победителя в Олимпийских играх, ваятель меньше всего заботился о портретном сходстве — он создавал идеальный образ человека. А работа над статуей божества была особой мистерией. Скульптуру отвозили в Дельфы для торжественной церемонии освящения, но перед этим жрецы обращались к божеству с вопросом, угодна ли ему эта статуя, согласно ли оно влить в нее свою божественную силу? И если знаки говорили о божественном согласии, статую ставили в храм.
Самые знаменитые греческие храмовые скульптуры не сохранились. Мы можем судить об их красоте и величии лишь по копиям и по описаниям. Например, существует около двухсот копий (если не считать изображения на монетах) Афины Парфенос — главной статуи в Афинском акрополе. Правда, ни одна из них не может передать все то, что испытывал созерцавший ее человек. Да к тому же не всякий удостаивался такой чести.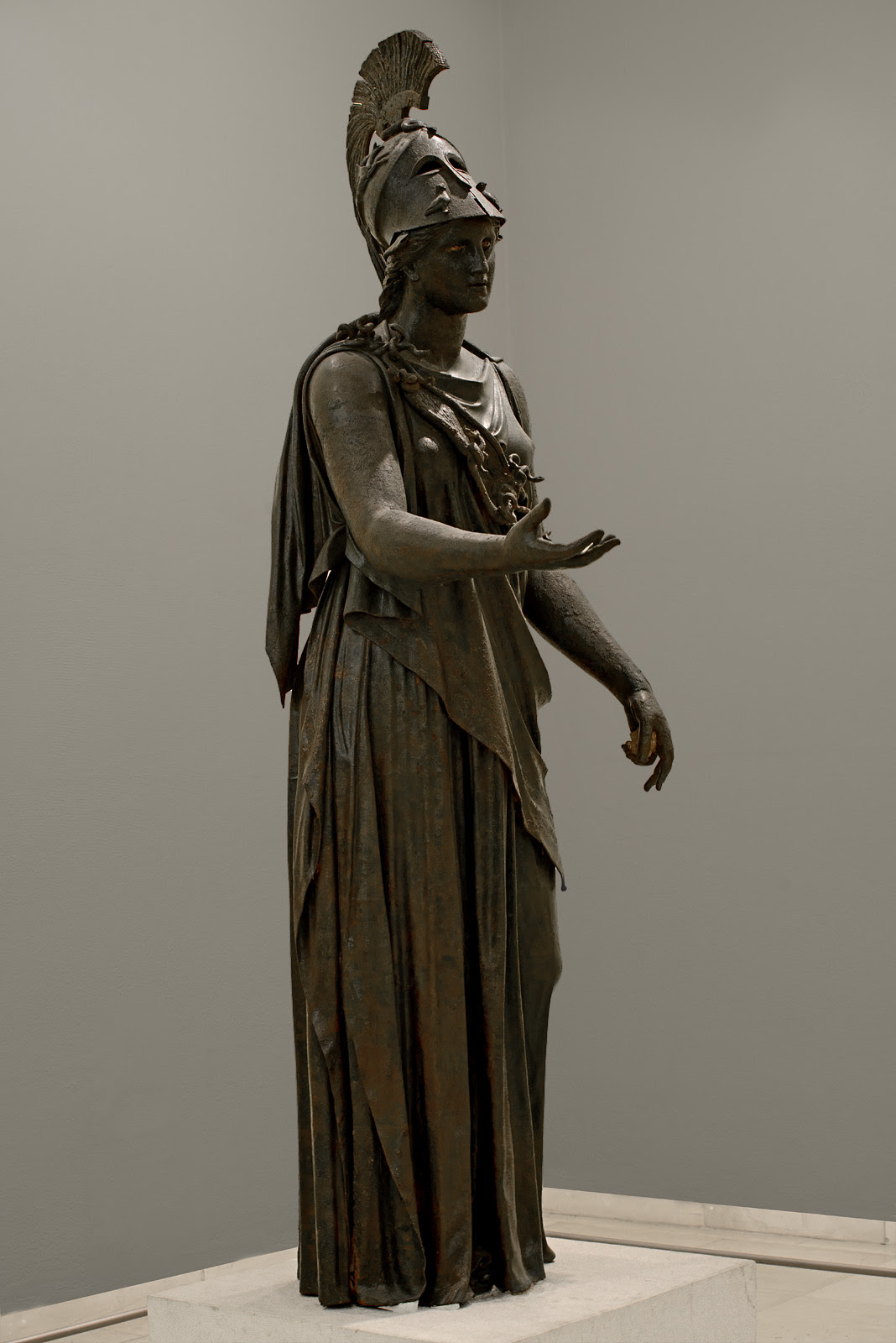 Статуя Афины (т. н. «Пирейская Афина»).
Бронза. 340—330 гг. до н. э.
Высота 2,35 м.Афины, Археологический музей Пирея.
[more=далее]
Ста­туя была обна­ру­же­на в чис­ле дру­гих в 1959 г. в Пирее, на пере­се­че­нии улиц Геор­гиу и Фило­на в кла­до­вой ком­на­те непо­да­ле­ку от антич­ной гава­ни. Скульп­ту­ра была укры­та в этом поме­ще­нии от войск Сул­лы в 86 г. до н. э.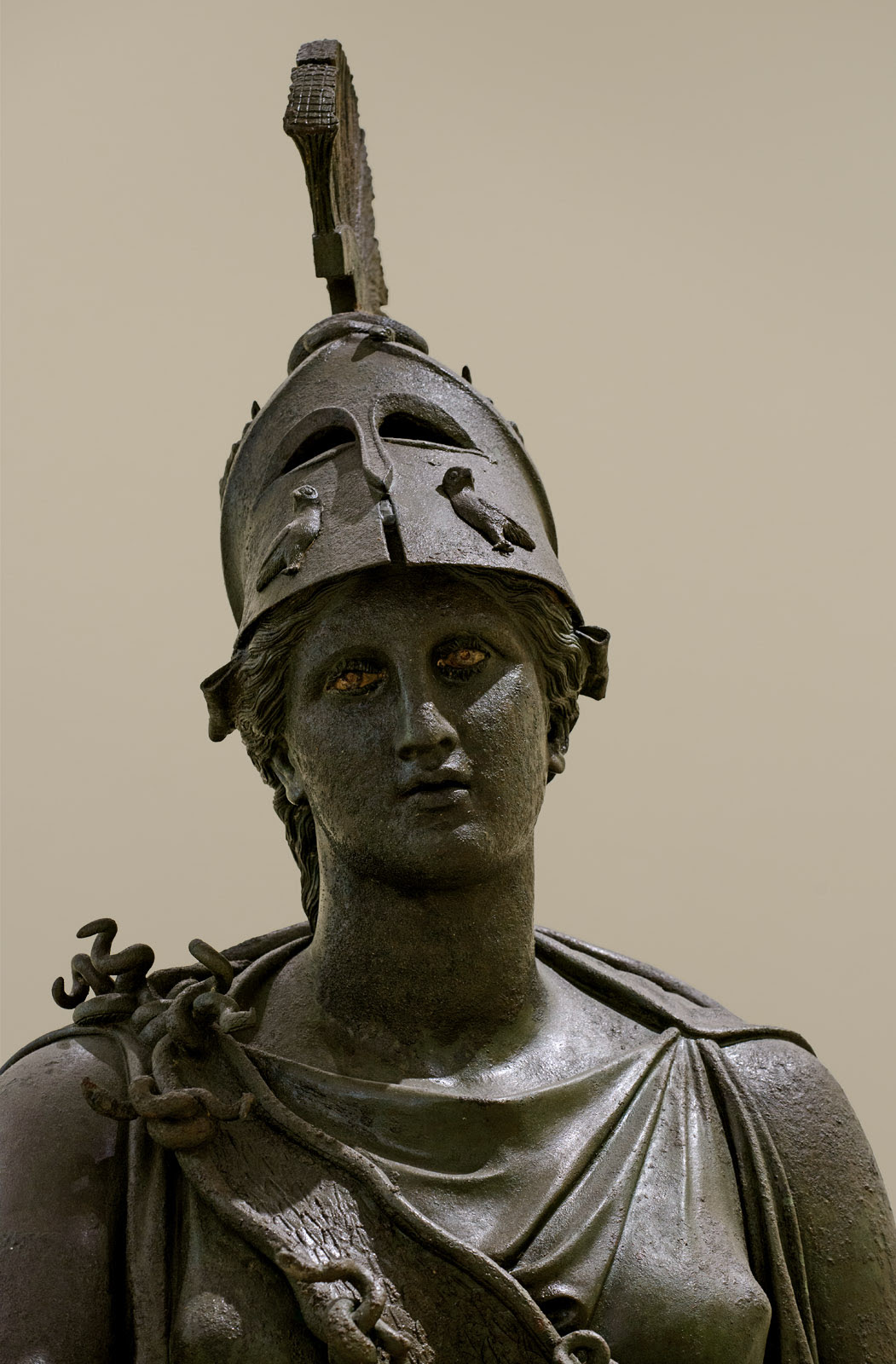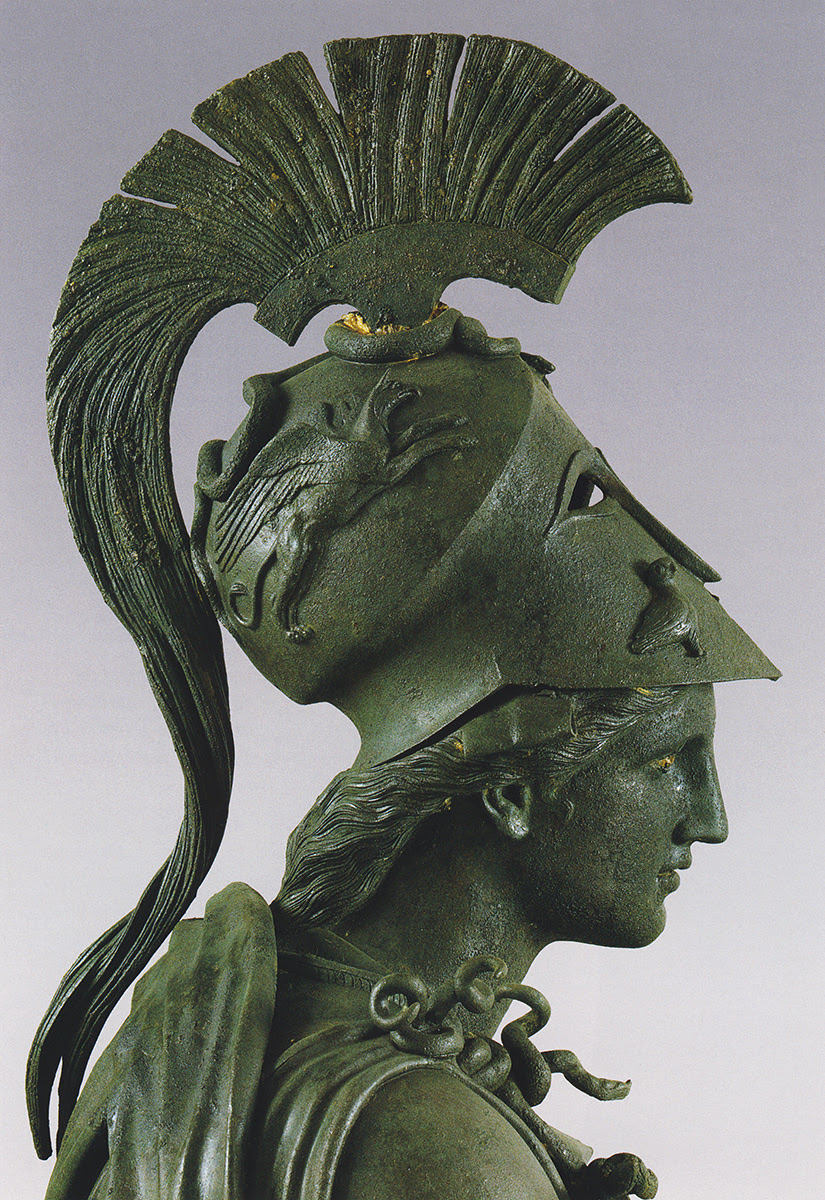 Душой величественной художественной деятельности периода расцвета Эллады был Фидий (ок. 488–432 гг.), друг Перикла, смягчивший и в архитектуре и в пластике прежнюю суровую строгость формы, превративший ее в возвышенную и вместе с тем грациозную красоту. Современники и потомки прославляли его колоссальные хрисоэлефантинные (сделанные из золота и слоновой кости) статуи богов
S
tatue of Athena Parthenos from the Library of Pergamon with the temple of Zeus Sosipolis from Magnesia on the Maeander in the background, Pergamon Museum Berlin
Если верить Плинию Старшему, на каждой детали скульптуры, начиная от постамента, на котором стояла Афина, и заканчивая ее шлемом, были изображены мифологические сцены: на постаменте — рождение Пандоры, на щите с обеих сторон — битва с амазонками и борьба богов с гигантами, на сандалиях — сражение с кентаврами.
Statue de Phidias par Aimé Millet (1889). Hauteur environ 2,50 m. Orangerie du jardin du Luxembourg
Фидий, лучший скульптор того времени, девять лет работал над скульптурой. Только ему смогли доверить граждане создание образа их небесной покровительницы. Это были девять лет молитвы, девять лет полного погружения в работу. Каждый день Фидий молился и спрашивал, что угодно Богине-Деве, чтобы вселить часть своего могущества в скульптуру, что еще сделать, чтобы Афина охраняла город и его жителей? Ведь для каждого афинянина очень важно было знать, что рядом с ними живут боги. Что нужно всего лишь обратить свой взор на Акрополь и его храмы, чтобы почувствовать их покровительство.
Значительная часть казны полиса ушла на создание этой скульптуры. Ее деревянный остов высотой в 13 метров покрывала тонна золота, а лицо и руки были сделаны из отборной слоновой кости. Двухметровая статуя богини победы Ники, которую Афина держала в руке, казалась крошечной. Афина Парфенос поистине была величественной! Трудно представить, что такое мог создать человек!
Каждый год в честь Афины жители устраивали празднества — малые Панафинеи, а каждые пять лет — Большие Панафинеи, когда самые достойные девушки полиса несли жертвоприношения и пеплос — специально сотканные за эти пять лет одежды для богини. Это была красивая церемониальная процессия.
Фидием и его учениками, были изготовлены превосходные скульптурные работы, украшавшие Парфенон. Многие из них более или менее хорошо сохранились и находятся теперь в Британском музее. На восточном фронтоне стояла группа, изображавшая рождение Паллады, на западном – группа, представлявшая спор её с Посейдоном о том, кому из них должно принадлежать покровительство над Аттикой
Athena Varvakeion
Наиболее полной и достоверной копией считается т. н. «Афина Варвакион» (Национальный музей, Афины), мрамор.
Стоявшая в центре храма и являвшаяся его сакральным центром статуя Афины Парфенос была выполнена самим Фидием. Она была прямостоящая и имела около 11 м в высоту, выполнена в хрисоэлефантинной технике (то есть из золота и слоновой кости на деревянной основе).
Печальна судьба этой скульптуры… Но, может быть, осталось где-то такое место, высокая гора, где по-прежнему живут Боги в своих храмах. И никакие тираны и пожары не могут их уничтожить. Может, когда-нибудь, вслед за древними греками, мы научимся ощущать их присутствие. Ведь Акрополь со его храмами и богами — это не только физическое место.
Скульптура не сохранилась и известна по различным копиям и многочисленным изображениям на монетах. В одной руке богиня держит Нику, а другой опирается на щит. На щите изображена амазономахия.
Считается, что на щите Афины в числе прочих изваяний Фидий поместил себя и изображения своего друга Перикла (предположительно, в виде Дедала и Тезея). Кстати, это оказалось для него фатальным — его обвинили в оскорблении божества, бросили в тюрьму, где он покончил с собой ядом, или умер от лишений и горя Особенность рельефа на щите состоит в том, что второй и третий план показаны не сзади, а один над другим. Кроме того, его тематика позволяет говорить о том, что это уже исторический рельеф.
Копия щита с изображением битвы, т. н. «Щит Странгфорда», Британский музей
Копией щита статуи с изображением битвы считается т. н. «Щит Странгфорда» в Британском музее.
Другая копия, хранящаяся в Лувре
Ещё один рельеф был на сандалиях Афины. Там изображалась кентавромахия.
На постаменте статуи было вырезано рождение Пандоры — первой женщины.
Мореплаватель Павсаний в своем путеводителе описывает её так:
Plaster cast-reconstruction of Athena statue based on the Roman copy after Phidias' Parthenos.
«Сама Афина сделана из слоновой кости и золота… Статуя изображает её во весь рост в хитоне до самых ступней ног, у неё на груди голова Медузы из слоновой кости, в руке она держит изображение Ники, приблизительно в четыре локтя, а в другой руке — копье. В ногах у неё лежит щит, а около копья змея; эта змея, вероятно — Эрихтоний». (Описание Эллады, XXIV, 7).
Château de Dampierre, Yvelines, France. Attempt to reconstruct the statue of Athena in the Parthenon at the scale of one fourth, by Henri Duponchet (1794-1868).
Athena Parthenos, 2. Jhd. n. Chr. (Gipsabguss, Original im Griechischen Nationalmuseum Athen
Title: Six Greek sculptors Year: 1915 (1910s) Authors: Gardner, Ernest Arthur, 1862-1939
Statuette of Athena. Pentelic marble. Found in Athens, near the Pnyx. Known as the "Lenormant Athena", this statuette copies the Athena Parthenos by Pheidias.
Athéna Parthénos dite Minerve au collier
Louvre Museum : Greco-Roman collection
A
ustria, Vienna, Austrian Parliament Building
Athena_Partenos_from_Prado
«Афина Лемния»
Athena Lemnia (Copenhagen Botanical Garden)
Лемносская Афина — бронзовая статуя богини Афины, созданная знаменитым греческим скульптором Фидием в 450—440 гг. до н. э. Не сохранилась, известна по копиям.«Фидий не всегда ваял образы Зевса, и не всегда отливал Афину, облачённую в бронзовый доспех, но он обратил своё искусство к другим богам и украсил щеки Девы розовым румянцем, скрытым обычно шлемом, что закрывал красоту богини».
Plaster casts in Pushkin Museum, Moscow
Согласно Павсанию, скульптура была изготовлена гражданами Афин, жившими на о. Лемнос, с целью преподнесения в дар родному городу, благодаря чему и получила такое прозвание. Вероятно, стояла где-то неподалеку от Пропилей.
Афина Лемния. Глиптотека.Мюнхен
Вторая из дрезденских реконструкций. Слепок в ГМИИ
.
Reconstruction of the Acropolis and Areopagus in Athens
Богиня Афина. Скульптурная группа «Афина и Марсий» работы Мирона. Фрагмент
Museum Willet-Holthuysen, à Amsterdam
Athena (Museumsberg, Flensburg)
Статуя «Афина Паллада» (Санкт-Петербург и Лен.область, Павловск, с северной стороны Павловского дворца)
Der Hofgarten des Schlosses Veitshöchheim.nahm seinen Anfang im 17. Jahrhundert als Fasanerie und wurde im 18. Jahrhundert weiter ausgestaltet und erweitert. Die Sandsteinfiguren stammen von Johann Wolfgang von der Auwera, Ferdinand Tietz und Johann Peter Wagner.
Haeferl - собственная работа
Statuette of Athena in pentelic marble, found at Epidaurus, bearing a dedication to Artemis
The 5 central figures of the west pediment of the Temple of Aphaia, ca. 505–500 B
Arte romana, atena, II secolo da un orginale greco della scuola di fidia del V secolo ac..
Ancient Roman statues in the Museo Archeologico (Naples)
Athena at Pilate´s House in Seville. Roman copy of a greek original.
Statue of Athena; torso: 180–190 AD, supplementations: Renaissance and Baroque era; marble; Museum: Liebieghaus
Athena. Leptis Magna, Tripolitania. Roman copy from 5th c. Greek original
Statue of Athena on the orangery of Schloss Seehof.
thena, West pediment of the old temple of Athena Polias (Acropolis of Athens)
Bayreuth, Hofgarten, Neues Schloss, Athene/Athena (Kopie) von Johann Gabriel Räntz (um 1755)
Roman marble statuette of Athena. Leptis Magna, Tripolitania; copy of an original from the end of the 5th ct. BC. Istanbul Archaeological Museums .
Athena of the Hope-Farnese type. Marble, Roman copy from the 1st–2nd centuries AD after a Greek origina
В Сочи
A
thena. Tripoli-Nationalmuseum,Göttin Athena-Medus
Estatua romana de la diosa Atenea en el patio principal de la Casa de Pilatos, (Sevilla, Andalucía, España)...
Sculpture of Athena found on Heraclea Lyncestis archaeological site in Macedonia
Athena Athene oder Bellona mit Drache auf Helm Friedrichsflügel Neues Palais Sanssouci
Marble statue of Minerva in the Ballroom at the Royal Castle in Warsaw (André Le Brun).
Athene-Statue und Zeus-Kopf am Athenebrunnen an der Karlshöhe in Stuttgart.
Buda-varoshaz-4.....
Skulptúra (Atény) na budove Vysokej škole výtvarných umení v Bratislave
Façade du Palais des ducs de Bourgogne Dijon Côte-d'Or Bourgogne-Franche-Comté
Graz, Zeughaus, Fassade Figur Minerva
Neues Schloss Schleissheim, Gartenparterre, "Minerva" ("Athene") von Giuseppe Volpini
Figura bogini wojny, Ateny na fasadzie Zbrojowni
Roma, Museo nazionale romano a palazzo Altemps, statua rinvenuta nel 1627 nel Campo Marzio e riscolpita da Alessandro Algardi per il cardinale Ludovisi come Atena (tipo Giustiniani). Sono di restauro le mani e la parte inferiore del corpo e del tronco.