Jan Griffier I 1645 - 1718
1680-1700_Речной пейзаж (View of a River)_37 х 49_д.,м._Амстердам, Рейксмузеум
Воображаемый речной пейзаж с охотниками (Imaginary river landscape with hunters)_54 x 73.5_д.,м._Частное собрание
Ян Гриффер Старший (Jan Griffier I; ок.1645, Амстердам - 1718, Лондон) – голландский живописец и гравер.
Родился в Амстердаме. Уолпол говорит, что он был учеником плотника, изготовителя кафеля и художника цветочных натюрмортов перед тем как стать учеником пейзажиста и гравера Роланда Рогмана (Roelant Roghman, ок.1620-1686). По словам Уолпола он также брал частные уроки у Адриана ван де Вельде (Adriaen van de Velde, 1636-1672), Якоба ван Рёйсдаля (Jacob van Ruisdael, 1628/9-1682) и, будто бы, Рембрандта.
Гриффир переехал в Лондон вскоре после Великого пожара 1666 года, который он запечатлел в ряде картин. В Лондоне он продолжил обучение у Яна Лотена (Jan Looten, 1618-1681).
Вид на Мозель (The landscape of the Mosel)_49.7 х 64.3_х.,м._Частное собрание
****
Он был принят «свободным братом» в общество живописцев Лондона в 1677 году, написав пейзаж с руинами в их зале. Как гравер, Гриффир выпустил серию с изображением птиц по Фрэнсису Барлоу (Francis Barlow), а также ряд портретов в меццо-тинто по Питеру Лели (Peter Lely) и Годфри Кнеллеру (Godfrey Kneller).
Уолпол говорит, что Гриффир имел свою яхту на берегу Темзы, на которой он писал пейзажи и много путешествовал между основными британскими городами, такими как Лондон, Виндзор, Оксфорд и Глостер, виды которых он увековечил в своих работах.
Он вернулся в Голландию около 1695, видимо, на своей яхте, которая потерпела кораблекрушение у побережья Нидерландов. Гриффир оставался в этой стране около десяти лет, после чего вернулся в Лондон, где купил дом в Миллбэнк. Он пользовался покровительством герцога Бофорта.
1710 (ок)_Вид на дворец Хэмптон-Корт (View of Hampton Court Palace)_38.1 x 50.5_медь, масло_Лондон, музей Тейт
***
Уолпол отмечает, что «идиллические виды рек и богатых земель были его любимыми сюжетами» (Уолпол 1888, II, стр. 131); в его перспективном виде дворца Хэмптон-Корт (Галерея Тейт, Лондон) совмещен реальный вид дома с фантастическим пейзажем.
В более поздние годы Гриффир расширил свою тематику, изображая воображаемые пейзажи с фантастическими фигурами, таких стран как Турция, а также морские виды.
Гриффир умер в своем доме на Миллбэнк (Вестминстер) в возрасте 72 лет. Его сын Роберт Гриффир (Robert Griffier, 1688-ок.1750) и внук Ян Гриффир Младший (Jan Griffier II, раб в 1738-1773 годах) были также пейзажистами. После смерти Гриффира состоялся аукцион его картин в Ковент-Гардене, Лондон.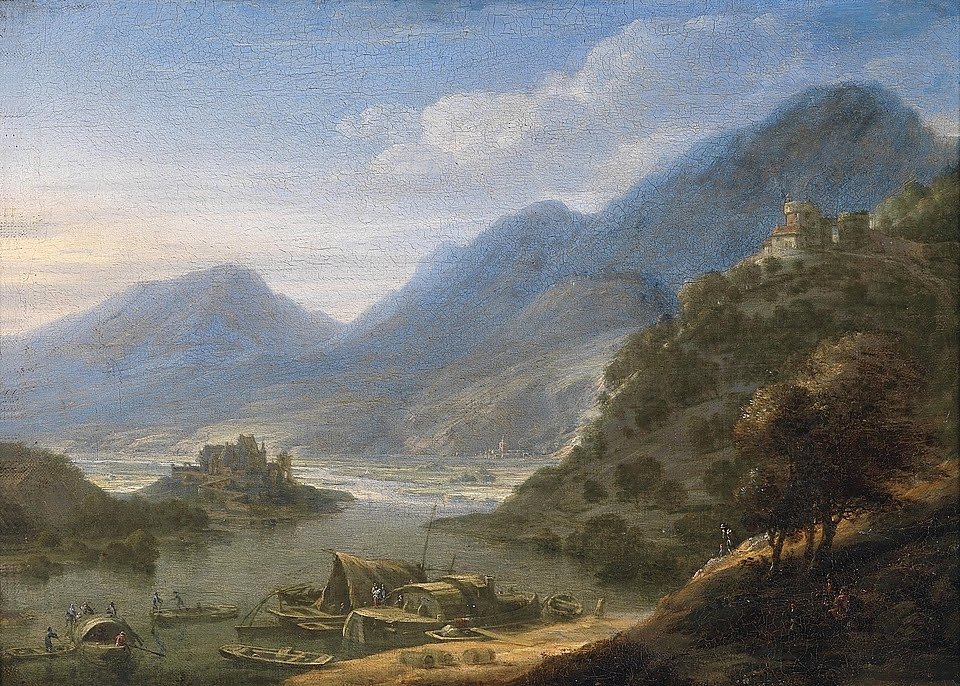 Идиллический рейнский пейзаж (An ideal Rhine landscape)_33 х 45_х.,м._Частное собрание
Идиллический рейнский пейзаж с замком на горе (An ideal Rhine landscape with an elevated castle)_53 х 74_д.,м._Частное собрание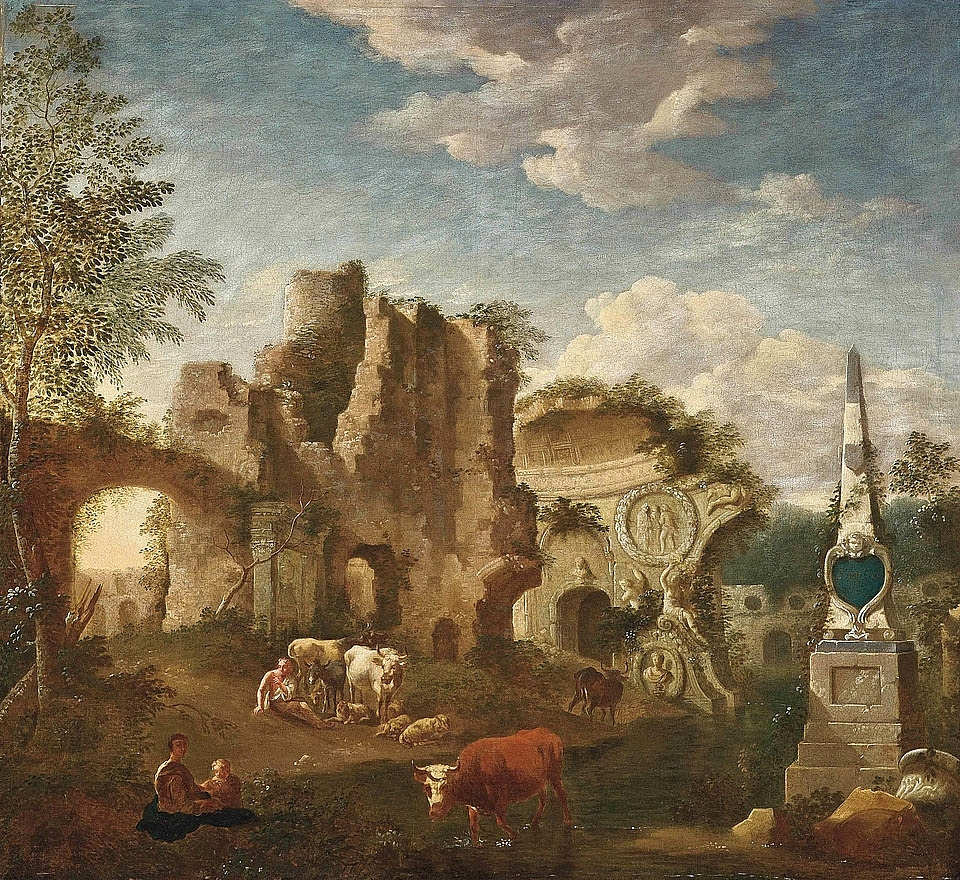 Итальянский пейзаж с античными руинами (An Italianate landscape with classical ruins)_84.7 х 91.5_х.,м._Частное собрание
Отшельник, молящийся перед могилой на фоне руин (A hermit praying before a tomb, a landscape with ruins)_40 x 36.3_масло, медь_Частное собрание
Пейзаж с руинами и фигурами (Landscape with ruins and figures)_53 х 65_медь, масло_Частное собрание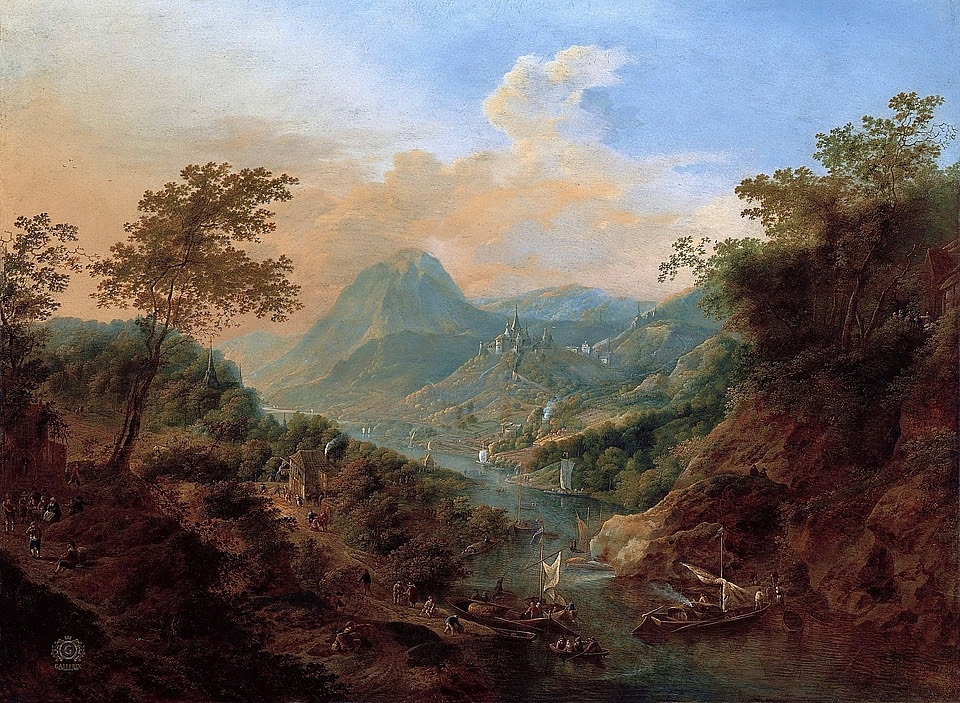 Рейнский пейзаж (Rhine Landscape)_51 х 69_Вена, музей Лихтенштейнов
Рейнский пейзаж с крутой лесной тропинкой (Rhenish Landscape with a Steep Forest Path on the Left)_47 х 51.1_медь, масло_Частное собрание
Речной пейзаж с крестьянами, возвращающимися с рынка (River winding through a plain)_32 х 42.8_медь, масло_Частное собрание
Рейнский пейзаж с путещественниками,лодками у замка и городом вдали (A Rhenish river landscape with travellers)_37.5 х 49.2_д.,м._Частное собрание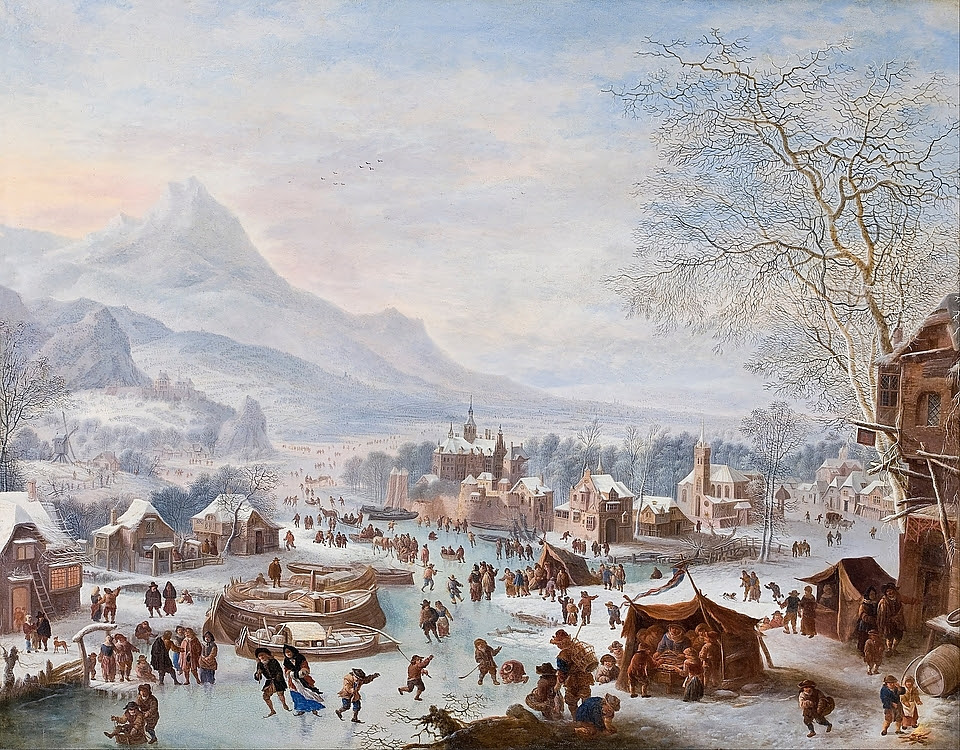 Зимний пейзаж с конькобежцами (Winter Scene with Skaters wikidata)_43 х 55_медь, масло_Стокгольм, Музей Халлвил
Вид на Мизитру (View of Mizithra)_17.5 х 21.3_гравюра
Обезьяна на спине собаки (Monkey on the back of a dog) (по Эдварду Куперу)_13.7 х 17.4_гравюра
Обезьяна, кошка. белка и сорока(Monkey, cat, squirrel and magpie) (по Фрэнсису Барлоу)_15.8 х 22.5_гравюра
Охота на зайца (Hunting on a hare) (по Пирсу Темпесту)_14 х 17.9_гравюра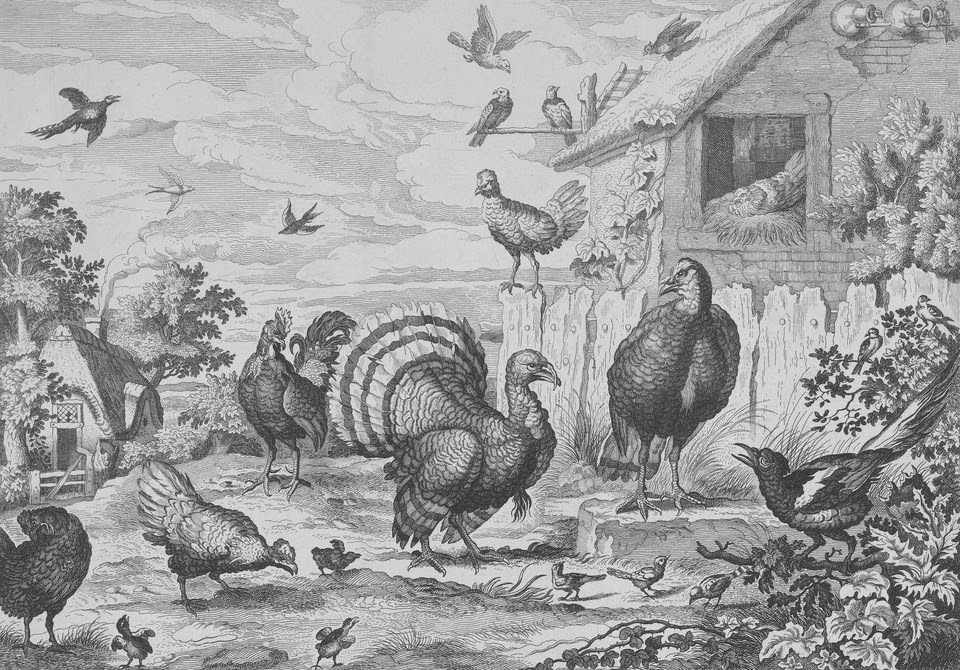 Различные птицы и индейка (Different poultry and a turkey) (по Фрэнсису Барлоу)_22.2 х 30.4_гравюра