Alexandre-Francois Desportes, 1661-1743
1699_Автопортрет в охоьничьем костюме (Self-portrait in Hunting Dress)_197 х 163_х.,м._Париж, Лувр
1724_Собака перед трофеями охоты (Chiens devant un trophee de chasse)_121 х 155_х.,м._Частное собрание
[more]
Александр Франсуа Депорт (Alexandre-François Desportes; 24 февраля 1661 - 20 апреля 1743) - французский живописец и декоративный дизайнер, который специализировался на изображении охотничьих натюрмортов и собак.Франсуа Депорт принадлежит к числу французских художников, чье творчество связано с эпохой Людовика XIV. Его называли «художником королевских охот», что буквально соответствовало занимаемой им должности при королевском дворе.
Он происходил из крестьянской семьи. Незаурядные способности юноши рано проявились и были замечены.
В двенадцатилетнем возрасте Депорт был взят в ученики к фламандскому живописцу Бернартсу, жившему тогда в Париже. Свою творческую карьеру он начинал как портретист. В 1695-1696 молодой живописец работал при польском Дворе, но Людовик XIV вернул его в Париж и назначил художником королевских охот.
1702_Бланш и Диана_197 х 163_х.,м._Париж, Лувр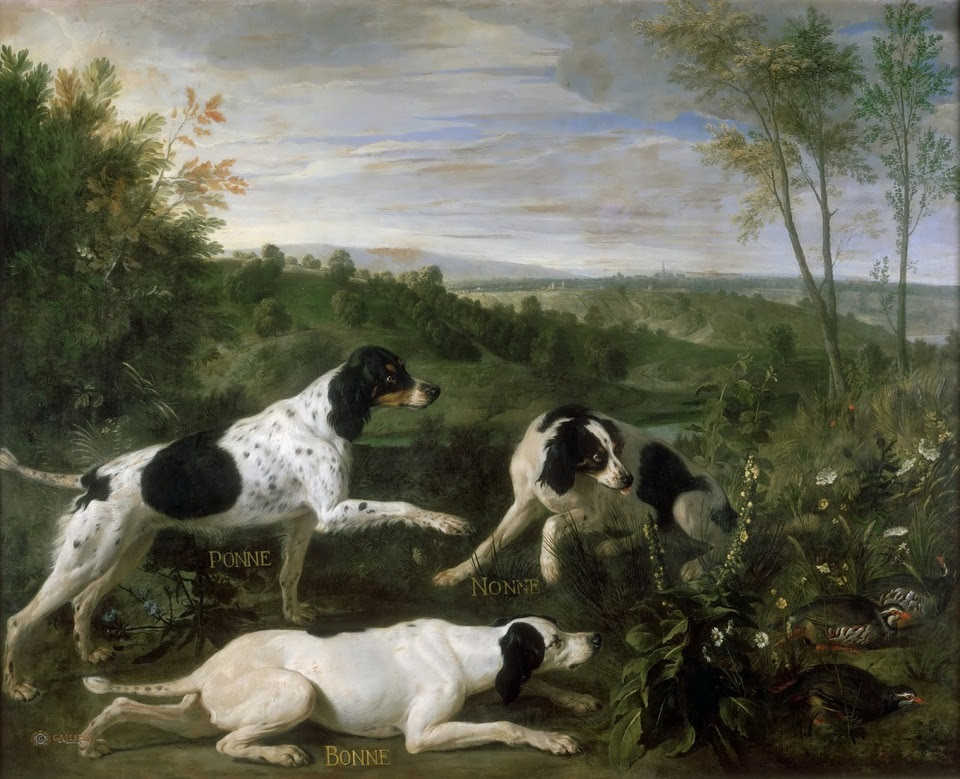 1702 (ок)_Бонна, Нонна и Понна_х.,м._Париж, Лувр
****
Приближенный к особе короля, Депорт сопровождал его величество на охотах и увековечивал на своих полотнах самые впечатляющие королевские трофеи. Он сделал также портреты лучших королевских собак: Бланш, Понн, Зетт и других.
1712_Натюрморт с битой дичью, фруктами, цветами и собакой (Gibier mort, fruits, fleurs et un chien)_165 х 135_х.,м._Париж, Лувр
****
В 1699 Депорт был принят в Королевскую Академию. С этого времени творчество художника всецело посвящено натюрмортам с битой дичью, сценам охоты.
Картина «Натюрморт с битой дичью, фруктами, цветами и собакой» - типичное для Депорта произведение. Правдивость, тщательность трактовки предметов, деталей, животных в натюрморте - это то, что выдавало фламандскую выучку, а страсть к роскошному изяществу в постановке живописи, деталях - неотъемлемая черта французского художника.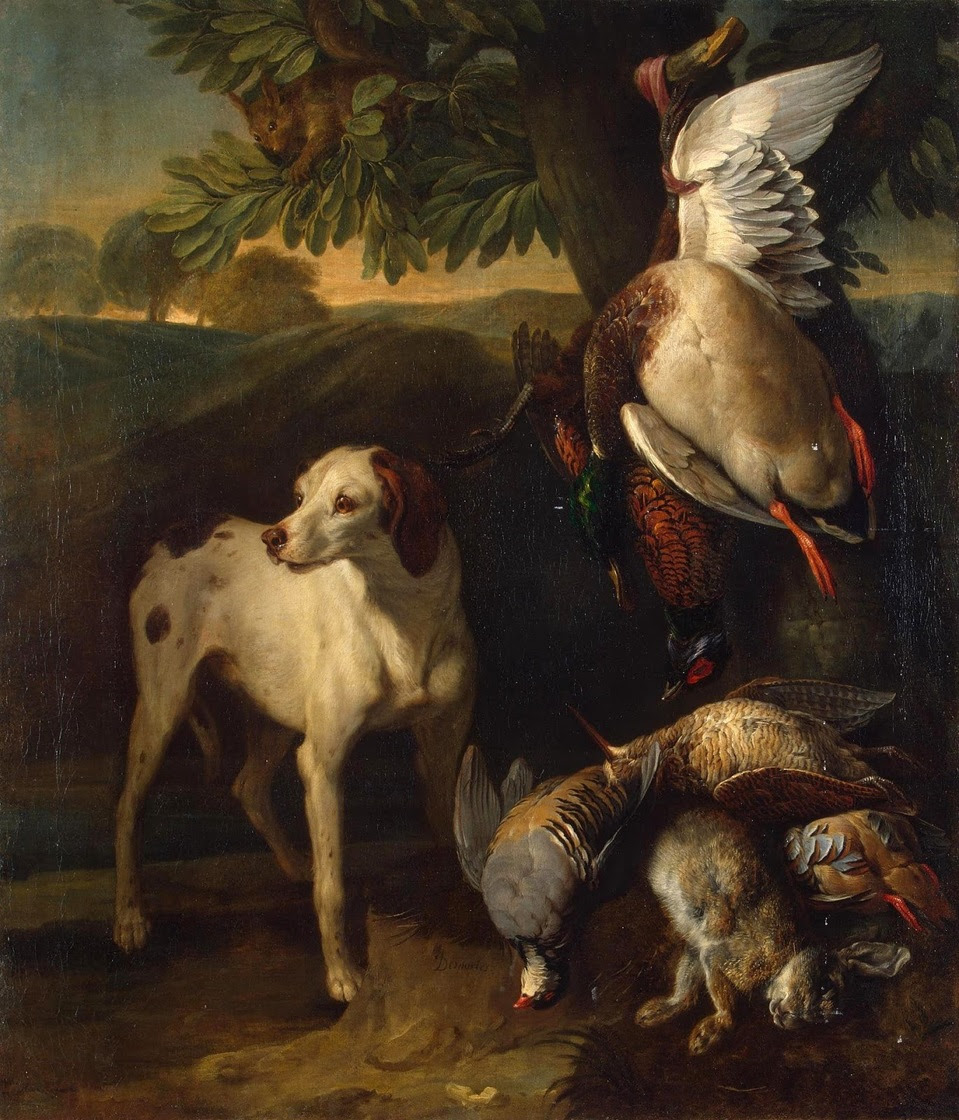 1711_Собака и дичь (Dog and Game)_119 х 99_х.,м._Санкт-Петербург, Эрмитаж
***
Другие известные произведения: «Собака и дичь», 1711, Эрмитаж, Санкт-Петербург; «Автопортрет в охотничьем костюме», около 1699 года, Лувр, Париж.
Этот мастер, много работавший с натуры, не только «портретирует» её, но передаёт живое своеобразие окружающего человека предметного мира, подчёркивая его материальную, чувственную природу.
Аллегорический гобелен Людовика XVI, исполненный корпоративом художников, птицы приписываются А.-Ф. Депорту_284 x 196_Частное собрание
Гобелен XVIII века с Венерой и Амуром, исполненный корпоративом художников, птицы и животные приписываются А.-Ф. Депорту_286 х 202_Частное собрание
****
Депорт, будучи придворным художником-анималистом, делал также рисунки и картоны для шпалер, кроме того, исполнял заказы частных лиц.
1734_Натюрморт с фруктами, кувшином, попугаем и морскими свинками (Fruits, aiguière, perroquet et cochons d'Inde)_84 х 138_х.,м._Париж, Лувр
****
Его натюрморты с тщательно выписанными фруктами, цветами и драгоценными тканями отличаются репрезентативностью и торжественностью. В плодах ощутима нежность фруктов, прозрачность спелого винограда, в тканях переливы тяжёлого бархата или парчи. Тонкий вкус и чувство меры сказываются в расчётливом отборе предметов, в продуманности композиции.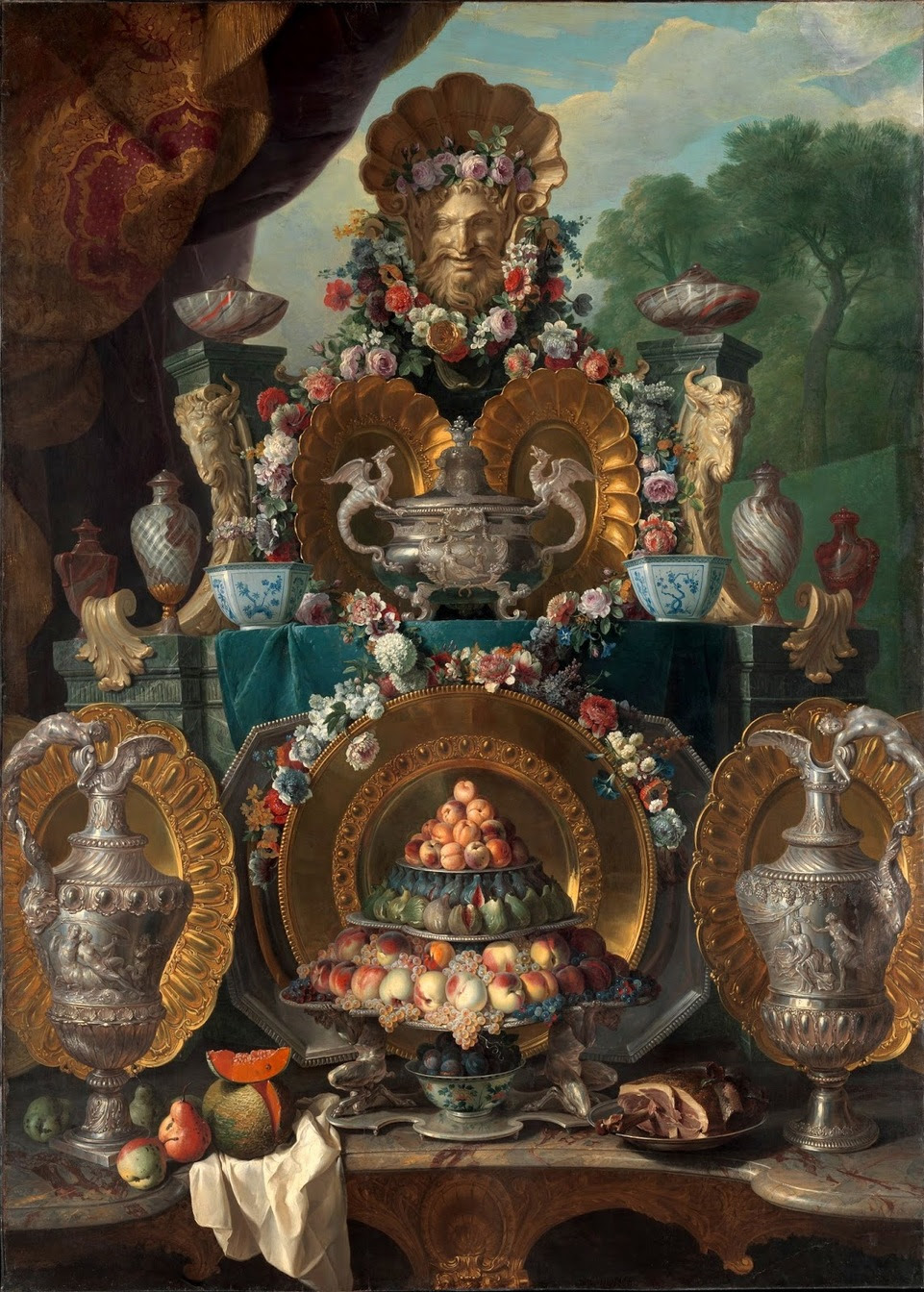 Натюрморт с серебряной посудой (Still Life with Silver)_261.6 х 187.3_х.,м._Нью-Йорк, музей Метрополитен
****
Работа Депорта позволяют говорить об особенностях уже собственно французской школы натюрморта. Он достиг небывалого мастерства, работая с поразительной виртуозностью.
Депорт выполнял также трудоемкие работы по оформлению королевских и сановных домов, где изображал в самых разнообразных вариантах охотничьи сцены.
Преемником Депорта на посту придворного художника стал художник Ж.. Б. Удри (1686-1755 гг.).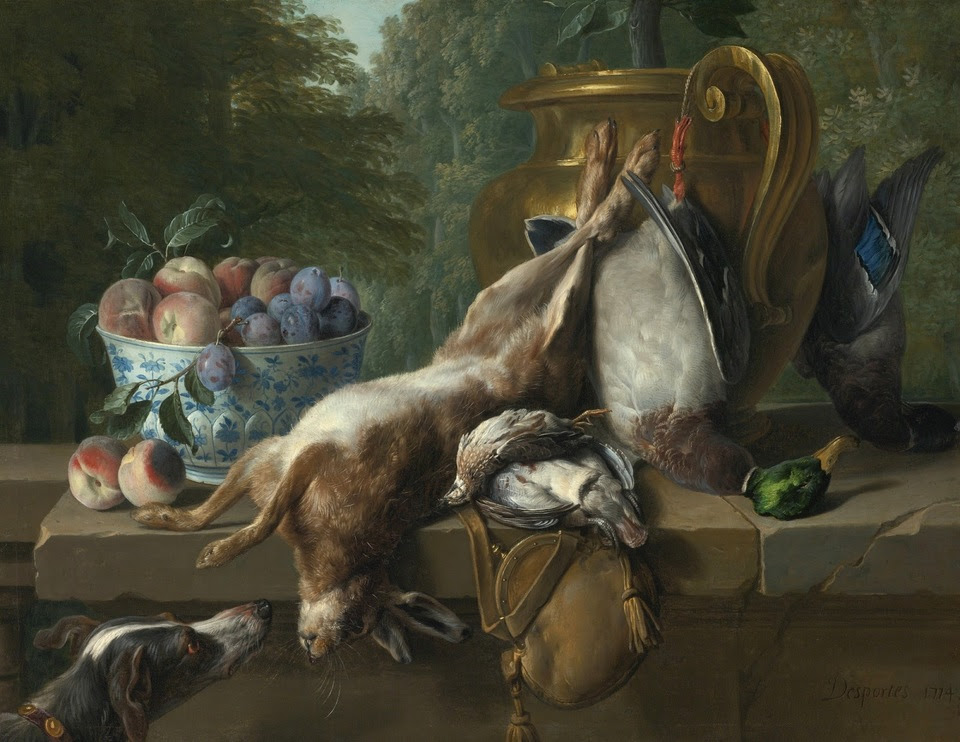 1714_Натюрморт с битой дичью и миской с персиками и сливами (Still life of game with a bowl of plums)_89 х 113_х.,м._Частное собрание
1720_Натюрморт с овощами, фруктами и цветами в пейзаже_93 х 119_х.,м._Частное собрание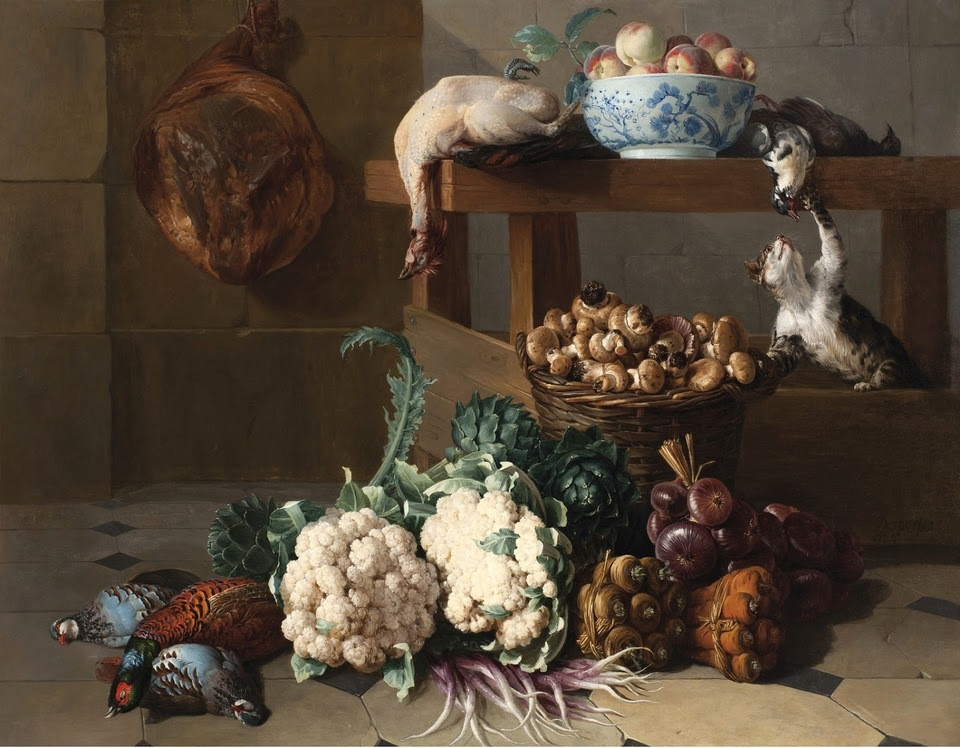 1724_Натюрморт с битой дичью, овощами и кошкой_121.5 х 155_х.,м._Частное собрание
1724_Собака защищает груду битой дичи от кошки (A Hound Protecting a Bag of Game From a Cat)_104.1 х 141_х.,м._Частное собрание
1725_Натюрморт с обезьяной и корзиной с фруктами (Still Life with a Monkey and a Basket of Fruit)_88.9 х 118.8_х.,м._Частное собрание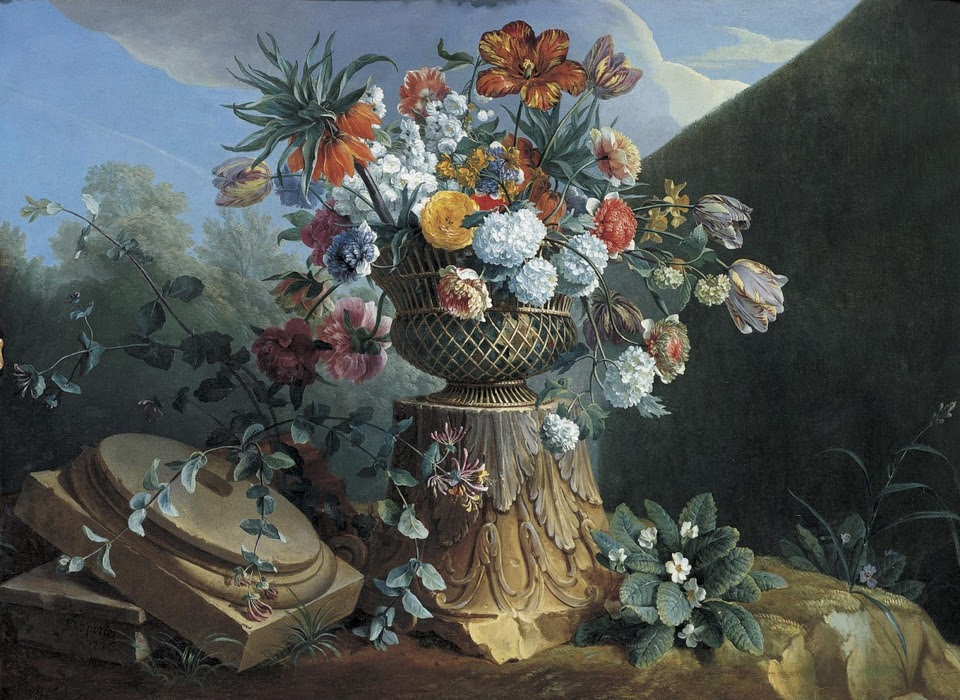 1726_Натюрморт с цветами в урне (Still Life of Flowers in an Urn)_101.5 х 135.8_х.,м._Частное собрание
1739_Постная трапеза (Le Dejeuner maigre)_73.7 x 91.4_х.,м._Частное собрание
Бонна, Нонна и Понна, собаки Людовика XIV (Bonne, Nonne et Ponne, chiennes de Louis XIV)_34 х 40_бумага на дереве, масло_Частное собрание
Гон оленя (Le Debuche Du Cerf)_61 х 126_х.,м._Частное собрание
Круг. Венок из винограда, окружающий статуи Вакха и Цереры (A wreath of Grapes surrounding a Statue of Bacc)_130.4 х 107.2_х.,м._Частное собрание
Натюрморт с битой дичью, персиками и миской со сливами_65.6 х 82.2_х.,м._Частное собрание
Круг. Натюрморт с фруктами, ветчиной, котом и попугаем (Nature morte aux fruits et au jambon avec un chat et un)_161 х 118.5_х.,м._Частное собрание
Круг. Этюд борзых (Etude de levriers)_18 х 23.5_х.,м._Частное собрание
****